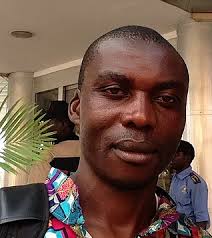 Conrad Nkimbeng is the Programs Coordinator at CameroonONE.
Conrad founded the Mankon Happy Children Organization, a Bamenda-based NGO that serves the needs of the children of the community with the motto, 'child protection for leadership', by protecting against all abuses, promoting basic hygiene and morals, and using sport activities and agriculture programs to educate and unify all children of Bamenda. Mankon Happy Children monitors their daily lives, health requirements, and educations and tends to children who have been hospitalized or imprisoned. In 2017, he received the Humanitarian Recognition Award from the Young Citizens Contributing Positively organization and Cameroon Ministry of Social Affairs for his work with CameroonONE and the orphaned children of Mankon.  He is currently studying Psychology, Physical Education and Animation  at the University of Bamenda.
Conrad is also a referee for FECAfoot, Fédération Camerounaise de Football, the Football Association of Cameroon as well as a sports teacher at Catholic Primary Mission Schools Mankon.