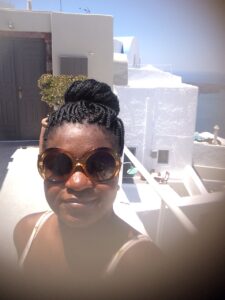 CHARLINE MELON is the Manager of Fundraising Programs for ONETrack International.
Charline earned her Bachelor's degree in Psychology with a Business minor from  Penn State University followed by a Master of Nonprofit Management.
She has over ten years of Business Administration experience in the Nonprofit sector and has also been teaching Adult Education both domestically and internationally for the last eight years.
Being of Haitian descent, it has always been embedded into Charline by her family the importance of giving back and serving others and her community. From the time that Charline could actively volunteer oversees in college, she would make it a priority to provide her time, resources, and talents to underserved communities including in Haiti, Dominican Republic, and Ghana. In addition, she has also taken initiative and collaborated with other organizations and entities to creating fundraising projects that bring more awareness and support towards the imperative needs of the black diaspora through her founded social entrepreneurial business Benevolent Builder.
As a Manager of Fundraising, Charline is responsible for structuring and developing ONETrack's overall College Internship Program for college students and groups across the US including overseeing interns who are spearheading their own personalized fundraising campaign in support of OTI's mission and causes.
In her spare time, Charline enjoys traveling, learning about new cultures, being an avid foodie while traveling, and actively partaking in kickboxing.