WHY WE DO IT
It is important to realize what the true problem of the Global Orphan Crisis is: It is not orphans- it is the mishandling of the response by the global community and the negligence of the commitment to finding real solutions to better serving orphaned children! There are currently over 150-Million children worldwide who have been orphaned by a variety of tragic circumstances. This is a sad statistic, but sadder still is that most of these children have been harmed by a second injustice- the overall response to the Global Orphan Crisis has been mismanaged and many of these children are unnecessarily suffering in overcrowded and under-resourced institutions- and many do not have to. At ONETrack we believe that the responses to this crisis need to be reassessed and better solutions need to be put in place!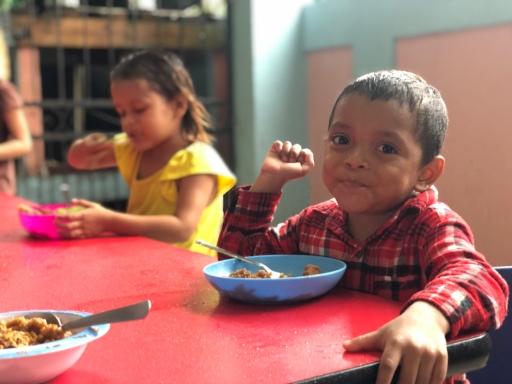 That is why we work hard to promote the Transition to Home alternative that places parentless children in the homes of biological family members within their villages of birth (in cases where orphaned children still have surviving relatives)! We have proven this system as a successful practice in our projects in West Africa (through our CameroonONE programs) and have now expanded to introduce our approach to other communities across the globe by finding parentless children suitable homes and ensuring that they receive a proper education and appropriate health care.

While the children under the care of ONETrack International are directly impacted the work we do, the greater community benefits in a variety of ways. Our students are certainly direct beneficiaries and we are able impact their lives by providing a safe family home, an education, and proper healthcare, but we also have a direct impact within their host families (which are an average family size of 6) by providing caretaker support and reuniting them with their nieces and nephews. We impact the communities' orphanages by alleviating them of unnecessary cases and relaxing their resource strain (which creates a better life for those still in their care). We provide funding for schools that would be otherwise unavailable and this impacts both the faculty as well as the other students. Our health initiatives prohibit outbreaks of vaccine-preventable diseases, promote proper nutrition and hygiene, and we coordinate regular sport and exercise programs. Educating our children about healthy lifestyles is important- Studies repeatedly link good nutrition to learning readiness, academic achievement, and a decrease in emotional problems. Girls' Education is more than just about getting girls into school. It is also about ensuring that girls feel safe and learn while in school, complete all levels of education with the skills and competencies to secure jobs, make decisions about their own lives, and contribute to their communities and the world. Better educated women tend to be healthier than uneducated women, participate more in the formal labor market, earn higher incomes, have fewer children, marry at a later age, and enable better health care and education for their children. All these factors combined can help lift households out of poverty. Poverty remains the most important factor for determining whether a girl will access an education. ONETrack helps eliminate this barrier by providing the tools necessary to make sure that the girls in our communities can attend school despite financial obstacles, that they are safe both when at home and in school, and that they are included in conversations about their own upbringing!