What ONETrack International Does
Starting out as a program to confront the orphaned crisis in the Republic of Cameroon, CameroonONE and ONETrack International are dedicated to the transitioning of orphaned children from over-crowed and under-resourced institutionalized care back into family environments. The Republic of Cameroon was faced with over a million orphaned children with very few measures dedicated to their protection, wellbeing and housing. Many children, often left to fend for themselves or finding themselves the victims of exploitation, were found to have caring parents or relatives who were incapable of providing sufficient care due to circumstances such as conflict, exploitation, poverty, lack of education, natural disaster, and/or disability and illness. In order to confront this crisis, CameroonONE focused their support on family-preservation efforts, allowing surviving relatives to resume caring for these children so that they may develop into resourceful, innovative citizens who will protect and strengthen their community.
CameroonONE's In-Home child sponsorship program has been proven to be one of the most efficient methods of ensuring that orphaned children can remain valued members within their communities of birth. With the priority of keeping families together at the forefront of CameroonONE's mission, those relatives taking on parental responsibilities of an orphaned child are supported through financial, material and household provisions. In turn, this support allows the family to provide suitable education, healthcare and security to those children in their care. By keeping Cameroonian communities and families together, CameroonONE has taken on the mantle of the international community to protect parentless children from losing their cultural ties, achieve their potential through education, and reduce child mortality by ensuring generations of orphans are spared institutionalized care through community education and strengthening.
ONETrack International will continue the work of CameroonONE throughout the globe, promoting the care of parentless children and vulnerable families by supporting current community-based programs. ONETrack is dedicated to creating community-based chapters in countries where experience and resources can be shared with partner organizations wanting to implement In-Home Sponsorship programs from within their own operations. ONETrack aims to reduce both short-term poverty in these communities by helping local organizations deliver financially advantageous initiatives for family preservation, education and advocacy. Furthermore, long-term poverty is tackled by creating a more productive human capital among parentless children who may have otherwise received little or no education.
***
The Benefits of Caretaker Support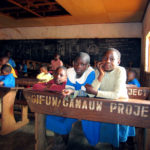 Our In-Home Child Sponsorship program is designed to support both an orphaned child as well as his or her surviving relatives.
Reunification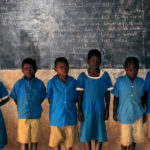 Reunification is the process in which orphaned or abandoned children are reintroduced into the home and community of their family of origin.