Update: This campaign is now closed. Thank you to everyone who participated.
ONETrack International started a new campaign to benefit both its own orphan programs as well as hospitality staff who have been financially burdened by the COVID-19 lockdown of major US cities. ONETrack International will offer a 50-50 share of donations with out-of-work hospitality staff or teams designated by the donor through its new Chuffed.org campaign.
During the age of 'shelter in place', restaurants, cafes, bars and night clubs have closed across the world. Workers who mostly survive on gratuity will not reap the benefits of the recent stimulus package, even when doors reopen and guests are scarce due to social distancing stigmas.
ONETrack International is a Boston-based charity whose founders have all worked in the hospitality industry and understand the pressures of losing that income while having to pay exorbitant city expenses.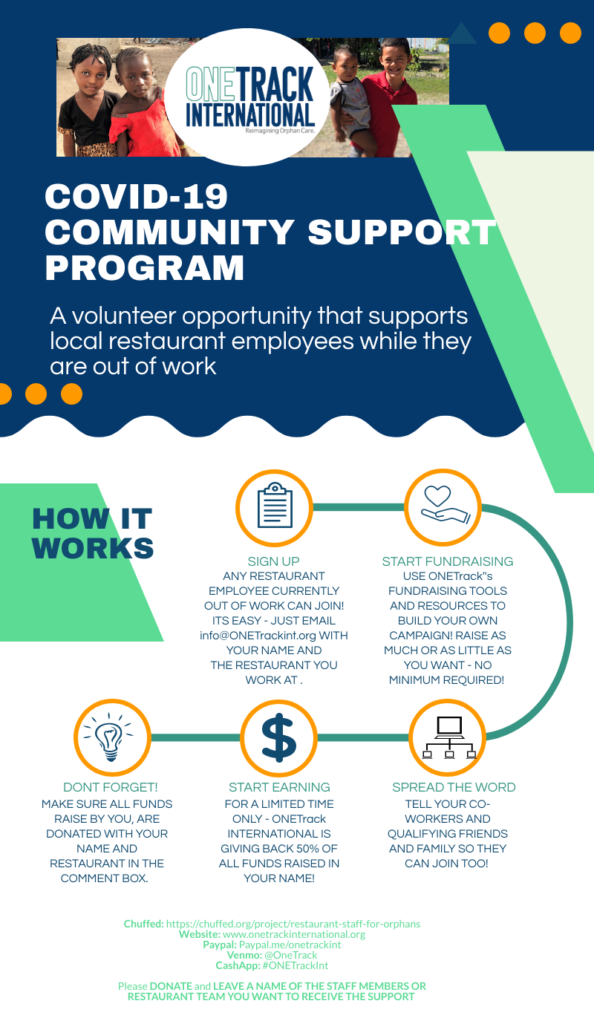 Out-of-worker staff may serve as fundraising volunteers, supporting each other while helping to reduce the Global Orphan Crisis. Donation recipients / volunteer fundraisers can be out-of-work hospitality staff from any restaurant, in any city.
To maintain complete accountability and transparency, this campaign has been organized on the crowdfunding platform, Chuffed.org.
***
The goal of this fundraiser is to provide Service staff of America some extra income in these uncertain times (while working as volunteer fundraisers), the children in ONETrack's programs can receive an education and a home, the economy will be helped because we will put these funds to good use, and the donor will receive a tax right off.
***