On June 9, Carissa Etienne, the head of The Pan American Health Organization (PAHO) called Latin America the "new epicenter of the pandemic" with more than 1.5 million cases being reported throughout the region. Several leaders of Latin America have tested positive for the virus including Honduran President Juan Orlando Hernández. He was hospitalized in mid-June and has since been discharged, but the country remains under the strict lockdown it has been under since March. Lack of testing also makes it difficult to know just how bad things are.
As we've seen in the United States, the effects of the virus linger around much longer than the time it takes the infected to recover, so what does this mean for Honduras?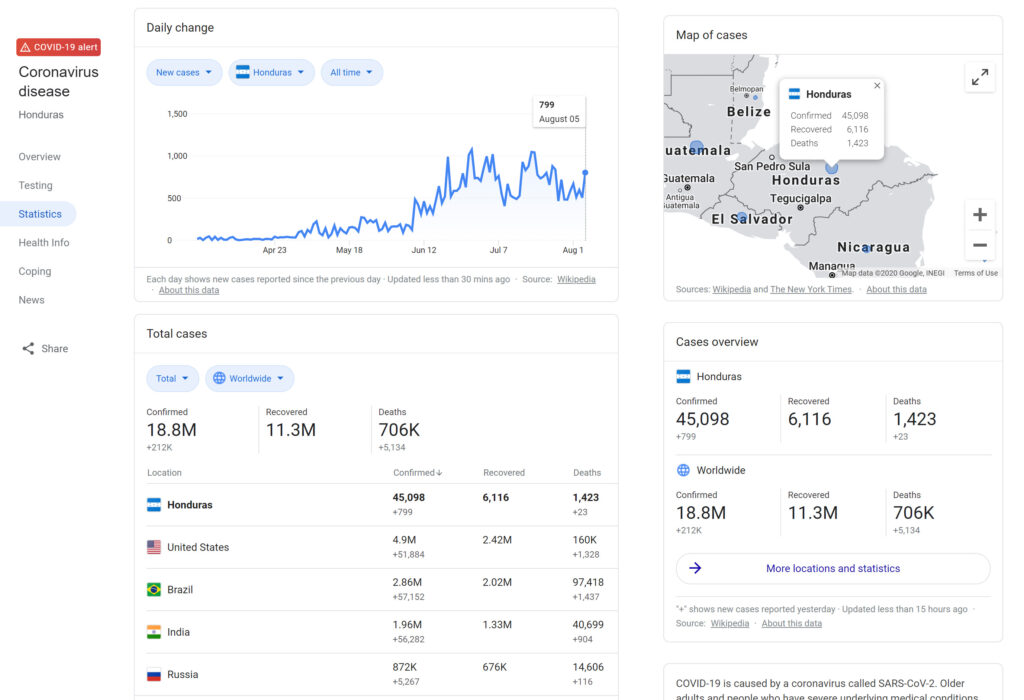 In recent years, Honduras has had one of the highest rates of economic growth in the region, but as a result of the virus, the country is expected to show negative growth in 2021. 48.3 percent of residents live in poverty, and the percentage is higher in rural areas. Honduras also has the highest level of inequality in not only Central America, but the world with a GINI Index of 50.5 in 2017. Mark Connolly, the UNICEF Representative for Honduras notes that even though emigration has decreased, the factors that push Hondurans to migrate have not changed. In other countries, homicide and violence have dropped, but this is not the case in Honduras.
As the number of coronavirus cases continue to rise in the United States, the textile industry is being hit particularly hard, as reflected by the 42 percent decrease in imports. For the already struggling lower class, the virus could mean that a large number of children become economic orphans, or a child that has at least one surviving parent, but one that is unable to support them financially. This forces many to choose between returning to work and possibly catching the virus or staying home without getting paid. It is also likely that many children will drop out of school in order to work to supplement their family's income.
In attempts to slow the spread of the virus, formal schools have been closed down. However, for many children in lower income communities, transitioning to online classrooms is not an option because of the lack of access to devices that are able to connect to the internet. There have been efforts to broadcast education materials via television during regular school hours, but as Rebecca Telford, the education chief for the United Nations Human Rights Council says, "There's a big risk that inequalities in education will widen."
Schools play a big role in preventing children from being recruited and targeted by gangs. More than getting an education, schools serve as a place where children can feel safe. For displaced children, getting to school before COVID-19 lockdowns was already a struggle, and increased gang recruitment might mean that some do not return to school at all.
This is significant because it has been proven that access to education reduces poverty and disease. Schools are more than just an institution for children to learn life skills – they provide other essential resources such as food, water, and vaccines. Especially with parents facing disrupted income, a school meal may be the only one children receive.
With the help of our local partners, ONETrack in Honduras is actively tackling these issues. The Stay In School program offered by our partner organization, Helping Honduras Kids, encourages elementary and high school aged children to remain in school by covering some of the costs of attending school that families would not be able to afford otherwise. It costs around $75 to $150 to enroll a student in school in Honduras for a full school year, and for many families, these costs mean that large families are only able to send one child to school, typically sons.
It is more difficult for children in rural areas in particular to attend school because of the additional transportation costs, and we help to subsidize these costs.
Currently, HKK is doing just this with children who live in extreme poverty.
The organization provides students with school uniforms, backpacks, notebooks, and other supplies they might need. Volunteer nurses at the school operated by our partners, provide cold, flu medication, and vitamins- all with an emphasis on and education of hygiene standards that work to combat the virus.
Sources:
"About Community Outreach." Helping Honduras Kids.
www.helpinghonduraskids.org/current-community-programs/about-community-outreach
Associated Press. "Coronavirus Hits Dozens of Latin Leaders, Including Presidents." VOA News, 11 July 2020.
www.voanews.com/covid-19-pandemic/coronavirus-hits-dozens-latin-leaders-including-presidents
DeLuca, Hayley. "Who Is An Orphan?" ONETrack International, 26 Feb. 2019.
onetrackinternational.org/who-is-an-orphan/
Lu, Grace. "Education as a Human Right." ONETrack International, 24 July 2019.
onetrackinternational.org/education-as-a-human-right/
Ryssdal, Kai, host. "For a Honduran textile factory, the pandemic means uncertainty." Marketplace, produced by Sean McHenry, 14 July 2020.
www.marketplace.org/2020/07/14/for-a-honduran-textile-factory-the-pandemic-means-uncertainty/
Sesin, Carmen. "Honduras' president hospitalized with COVID-19 as Latin America becomes virus 'epicenter.'" NBC News, 17 June 2020.
www.nbcnews.com/news/latino/honduras-president-hospitalized-covid-19-latin-america-becomes-virus-epicenter-n1231349
UNHCR Staff. "Refugee children hard hit by coronavirus school closures." UNHCR USA, 11 May 2020,
www.unhcr.org/en-us/news/stories/2020/5/5eb94dd14/refugee-children-hard-hit-coronavirus-school-closures.html
"Protecting Kids From the Effects of COVID-19 in Honduras." UNICEF USA, 26 May 2020.
unicefusa.org/ stories/protecting-kids-effects-covid-19-honduras/37338
"The World Bank In Honduras." The World Bank, 12 Apr. 2020,
www.worldbank.org/en/country/honduras/overview